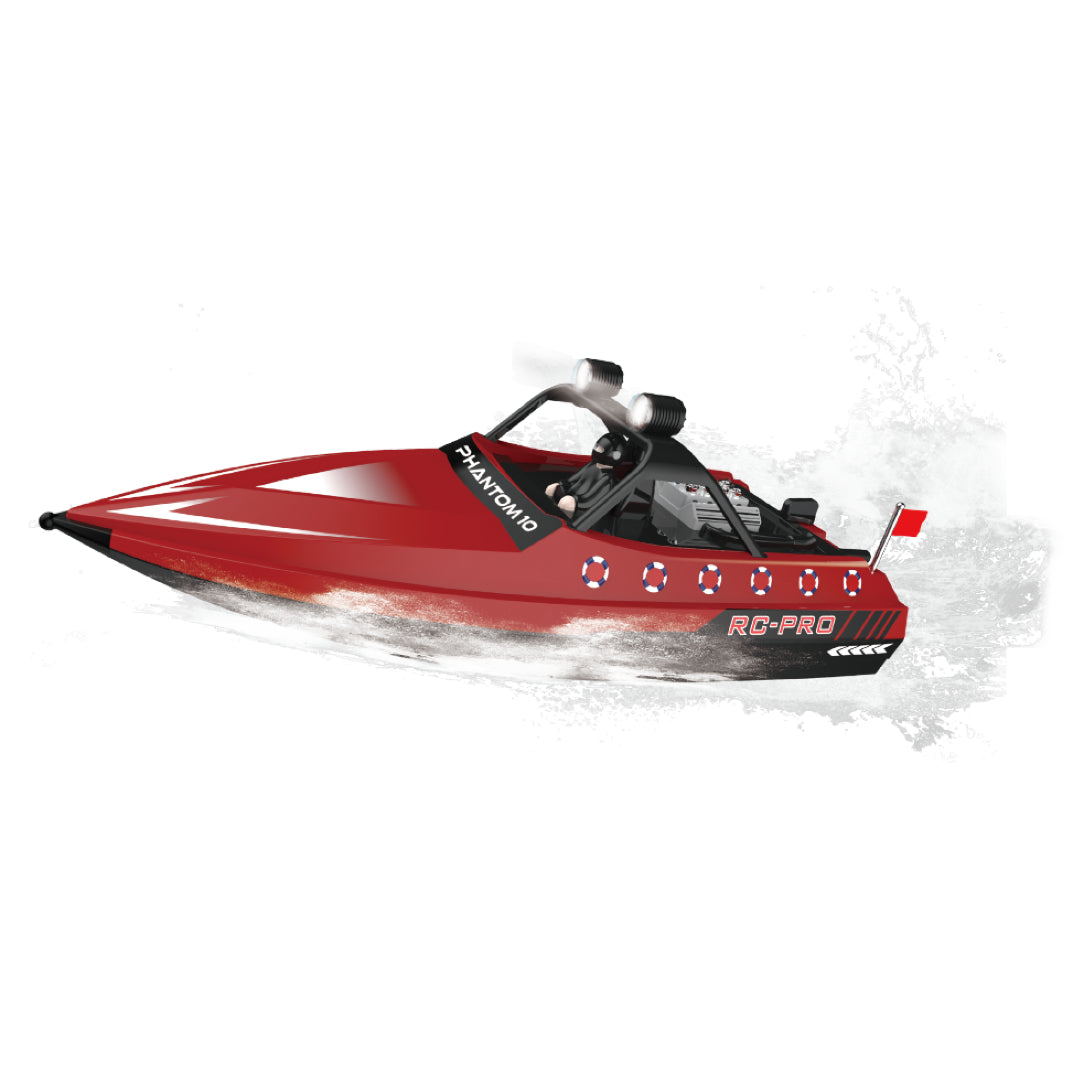 PHANTOM10 - R/C Jetboat
The PHANTOM10 Jetboat is a powerful and stylish watercraft measuring at 10 feet. It offers an exhilarating experience on the water with its lightweight yet durable construction, agile maneuverability, and impressive speed. With a spacious seating arrangement for up to four passengers, it is perfect for enjoying trips with friends and family. Safety features like a reliable braking system and robust hull design ensure a secure ride. The PHANTOM10 Jetboat combines power, agility, and elegance, making it a thrilling choice for water enthusiasts.
Read More
PHANTOM17 - R/C Jetboat
The PHANTOM17 Jetboat is a sleek and versatile watercraft, measuring at 17 feet in length. With its powerful engine and advanced hydrodynamic design, it offers exceptional speed, agility, and handling on the water. The spacious seating area accommodates up to six passengers, making it ideal for adventurous outings with family and friends. Safety features like a reinforced hull and reliable braking system ensure peace of mind during every ride. The PHANTOM17 Jetboat seamlessly blends style, performance, and comfort, providing an unforgettable experience for water enthusiasts.
Read More
PHANTOM10
Regular price

Sale price

$69.99 USD

Unit price

per

Regular price

Sale price

$3.00 USD

Unit price

per
PHANTOM17
Regular price

Sale price

$99.99 USD

Unit price

per
Regular price

Sale price

$7.00 USD

Unit price

per

Regular price

Sale price

$3.00 USD

Unit price

per

Regular price

Sale price

$3.00 USD

Unit price

per

Regular price

Sale price

$3.00 USD

Unit price

per

Regular price

Sale price

$8.00 USD

Unit price

per

Regular price

Sale price

$19.00 USD

Unit price

per

Regular price

Sale price

$3.00 USD

Unit price

per

Regular price

Sale price

$10.00 USD

Unit price

per

Regular price

Sale price

$3.00 USD

Unit price

per

Regular price

Sale price

$3.00 USD

Unit price

per

Regular price

Sale price

$19.00 USD

Unit price

per

Regular price

Sale price

$5.00 USD

Unit price

per

Regular price

Sale price

$6.00 USD

Unit price

per

Regular price

Sale price

$6.00 USD

Unit price

per

Regular price

Sale price

$6.00 USD

Unit price

per

Regular price

Sale price

$12.00 USD

Unit price

per

Regular price

Sale price

$12.00 USD

Unit price

per

Regular price

Sale price

$12.00 USD

Unit price

per

Regular price

Sale price

$3.00 USD

Unit price

per