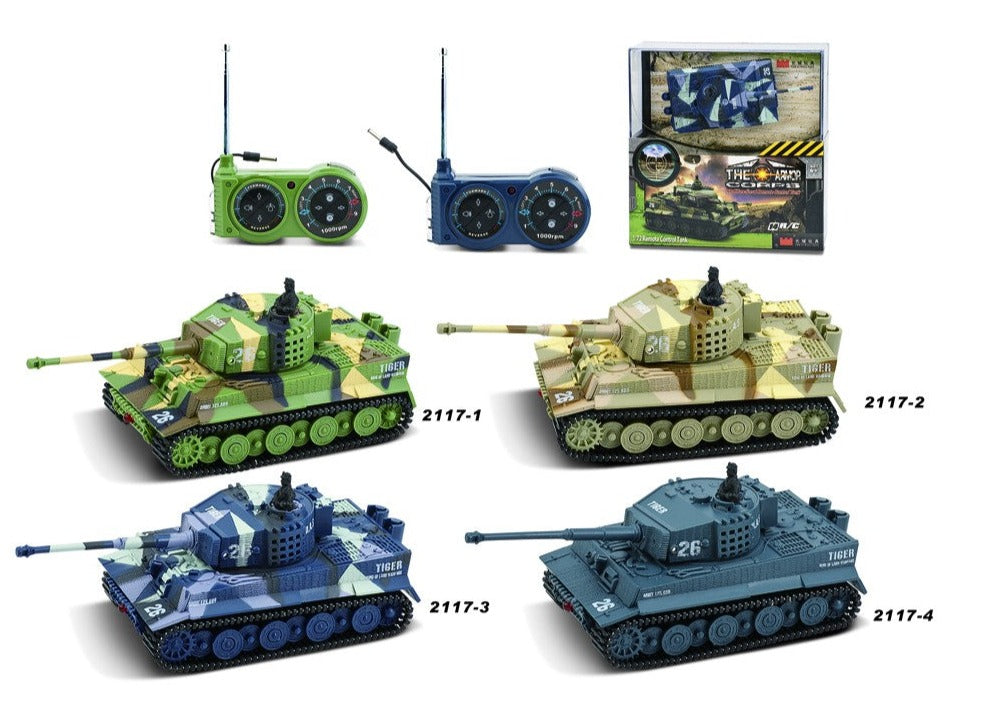 1/72 SCALE RC IR TANKS
The 1/72 Scale RC IR Tanks are incredible replicas of real military tanks, designed to bring the excitement of tank warfare to the palm of your hand. With meticulous attention to detail, these miniature tanks are built to a highly precise 1/72 scale, showcasing the intricacies of their full-sized counterparts.

Equipped with remote control functionality, these tanks allow for seamless maneuverability, providing an immersive and engaging experience for enthusiasts of all ages. The included infrared (IR) technology enables exciting battles between tanks, as they can detect and register hits from their opponents. Each tank is fitted with sensors that accurately keep track of the number and location of hits, enhancing the realism of the combat.

These tanks are crafted from durable materials, ensuring that they can withstand the rigors of battle. Their realistic movements, including forward and reverse drives, 360-degree rotation, and turret rotation, make it easy to recreate tactical maneuvers and engage in strategic battles. Additionally, the tanks are equipped with realistic sound effects, adding to the immersive experience.

The 1/72 Scale RC IR Tanks offer a wide range of options, with various models representing different tanks from different eras, including World War II and modern tanks. Each tank features accurate paint schemes, decals, and accessories, making them visually stunning and authentic.

Whether you are a history buff, a military enthusiast, or simply looking for a thrilling and immersive remote control experience, the 1/72 Scale RC IR Tanks are a must-have.